The music sensational event Hard Summer was attracted more than 1 lakh 46 thousand people at Auto Club Speedway. The craze of Hard Music Festival grows more as Hard Summer Music Festival 2018 will hold on August 4 and 5. They are expecting more audience over the actual event.
At last year's Hard Summer, they had a great time. It was held in Glen Helen Amphitheater in San Bernardino. With today mind-blowing display they had achieved lots of fans.
As we can see they have got $6.7 million from selling tickets that were priced between $65 and $150.
This year, Hard Summer Festival 2018 will take place in The Speedway in Fontana, California. Event organizers are really hoping that EDM and hip-hop dance lover will come and enjoy the occasion of Hard Summer Festival.
Lots of famous DJ and rapper will perform on the stage to display their spectacular performance over lakhs of fans.
Among the top of the popular artist, on the Hard Music Festival lineup, they have the misty Marshmallow, Yellow Mustard, Ekali, Jaden Smith and many more.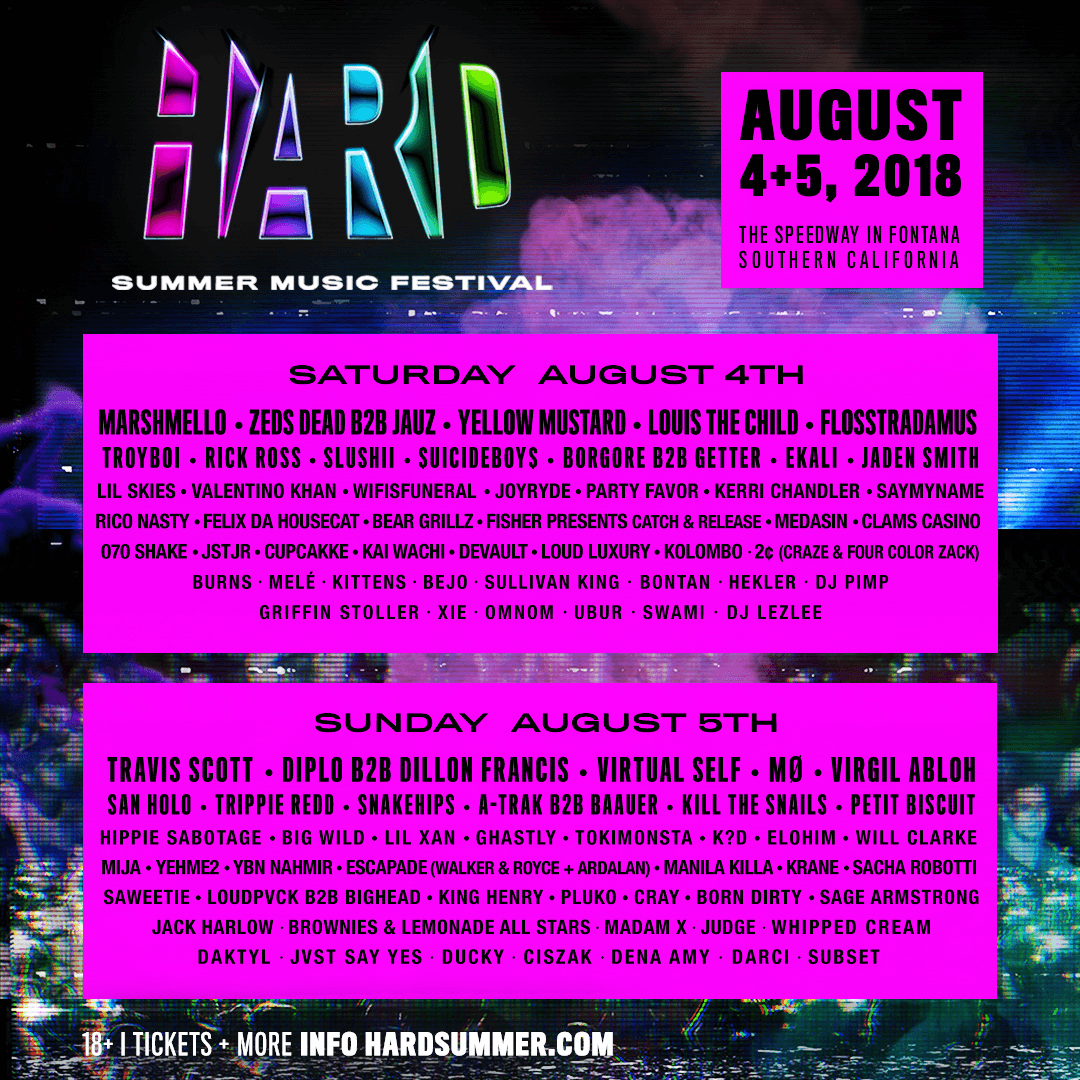 Years over years, electronic music was dominated by male artists. But things have changed over the years as Hard Music Festival goes on.
On Hard Summer Festival 2018 there will be plenty of female electronic music artist. Mija, Rico Nasty, and Elohim are one of them.
The Hard Summer is known for creating an amazing and energetic environment with the electric music. The crowd has really loved the last event of Hard Summer 2017.
Many people from southern California will come as well as people from outside of California will come to join this goose bumping event.
According to the weather forecast, it will be sunny all across the day of Hard Summer Festival. But the temperature might create stress for attendees.
However, the authority has stated that there will be enough shades and water station all around the event place. That will help fans to cop up with the increasing heat.
To bring the craze of Hard Music, they have released a remix that features all artists who will join the Hard Music Festival 2018 on August 4.
With lots of excitement and courage, Hard Music Festival 2018 will be much more vivid than the previous one. Everything expected to be perfect for upcoming two days of the event.
You can get the access from tickets. You can get several types of tickets for Hard Music Festival on the Ticket section.